Description
A Celebration of Collaboration and Connection
WITH THEODORA HARASYMIW
FRIDAY, AUGUST 19, 6:00 PM – 9:00 PM
SATURDAY & SUNDAY, AUGUST 20 & 21, 10:00 AM – 4:00 PM
$260 + $45 Supply Fee
Class Limit: 12 Students
Are you a creative person looking to delve deeper into your practice? Here is a celebration of collaboration, and connection. This 3-day retreat will break open the myths and misconceptions about creativity. Through practical exercises you will learn the art of using a sketchbook as a tool for combining word, visual activities, and found objects.
Friday: A discussion on how we experience creativity in different ways. You will learn how to collaborate with yourself through collage and writing to break through barriers about creativity such as doubt, procrastination, and fear.
Saturday: Here's a playful day of collaborating with other participants. You will work with others to experiment with the creative process. Through drawing, and mark-making you reveal the evolution of themes, stories, and unexpected outcomes. These experiments may help you develop your visual language and unique style.
Sunday: Participants will be encouraged to work intuitively with natural materials to build a mini mosaic. Theo will discuss sourcing unique materials from our environment and help you become aware of what speaks to you.
About the Instructor: Theodora is a Visual Artist and Art Educator working in Edmonton, Canada. In addition to working in her studio, she has been working as an Artist in Residence since 1997. For the last 10 years she's been working mainly in the medium of mosaic but painting is the medium she was originally trained in. Having the two mediums to work between has been wonderful because they're so vastly different and offer different perspectives on how to create.
Tumblr: theodoraharasymiw.tumblr.com
Instagram: @paintingtheo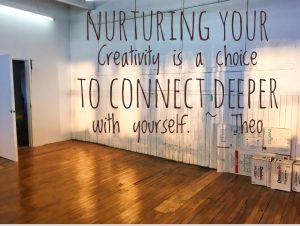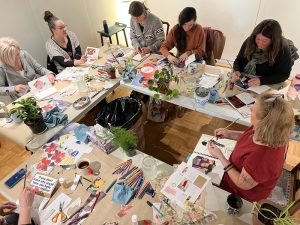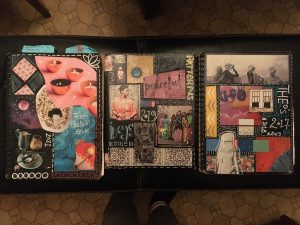 The supply fee includes: pens, pencils, crayons, pastels, gel, brushes, mortar, mosaic materials, wood substrates and one hardbound sketchbook
Students Bring: Suitable art clothes, notebook, snack, drink, and your own PPE (mask, hand sanitizer)
You will receive a 20% discount on all art supplies from your registration until the end of the class!
Artelier is located at 10045 81 Avenue NW (back alley entrance). The workshop space is one block south of The Paint Spot.