Etchr Accordion Sketchbooks unfold a world of creativity and exploration – they're the perfect companion for culture vultures, illustrators, and creatives alike. Made with high-quality mixed media paper, there is plenty of room to experiment with new techniques and mediums. Here are our top five suggestions for working with this unique art book format.
1. The fold-out format of accordion sketchbooks makes for fantastic reveals.
In the coloured pencil section at The Paint Spot, we choose the accordion format for our hand-drawn colour charts because the book is compact for storage but unfolds for reference so that the entire range is visible on one page to compare colours easier. It is fun and dramatic to reveal the colour charts. We highly recommend you test and practice mixing colour swatches in Etchr Accordion Sketchbooks.
2. With accordion sketchbooks images are not limited to a single page.
The zigzag format of Etchr Accordion Sketchbooks allows for the story to unfold and the images may run over two, three, or even all the panels. The images might be cropped to fit one section, or flow across several sections to capture a whole street scene. We have a sample Etchr Accordion book created through a unique artist collaboration.
3. Make a border, paint to the edges, or do both!
Retain a little white border on each image, then the sketchbook can look like a precious storybook or mini presentation gallery. Here the image is not limited to one page because the border creates a solid start and finish to the piece of art. Low-tack drafting tape is ideal for taping edges. What's more satisfying than pulling off the tape to reveal a perfect border? It's fun to do and fun to watch in videos.
Pick-up line: a short visual story on a long piece of paper.
The book was shared among our artistic staff. One person started the image and the next artist was inspired to start where the other artist left off. The challenge was that all of the images must flow or link together to take advantage of the folded accordion design. Our goal was to fill the book with different styles of art, using various materials to show the versatility of the paper.
Why not try this project? Here are the easy steps.
Create art on a page or two.
Make sure a line of your art starts and ends off the page. Let a portion of the image flow off the page to inspire the next image.
Add your social media @
Pass the book along to someone else.
The next person must start their line based on the line of one of your pages.
4. Accordion sketchbooks are great for collages.
Collage work in accordion sketchbooks means adding extra paper and the process can create bulk that puts stress on a normal spine of a hardcover book, so a spiral-bound book is better, but an accordion book is best because the spine can expand both ways. Also, the collage materials glued over the folded edges can reinforce the creased pages.
5. Create a two-sided book.
It is fun to think about the book as a 2-sided adventure. To create a travel book based on the photos I took during a recent trip to New Orleans, I chose one side for the vertical format and the other for a horizontal format. I think it will make viewing the images easier than shifting the book back and forth between the two formats. The accordion style also reminded me of the old-fashioned postcard-souvenir books we used to buy.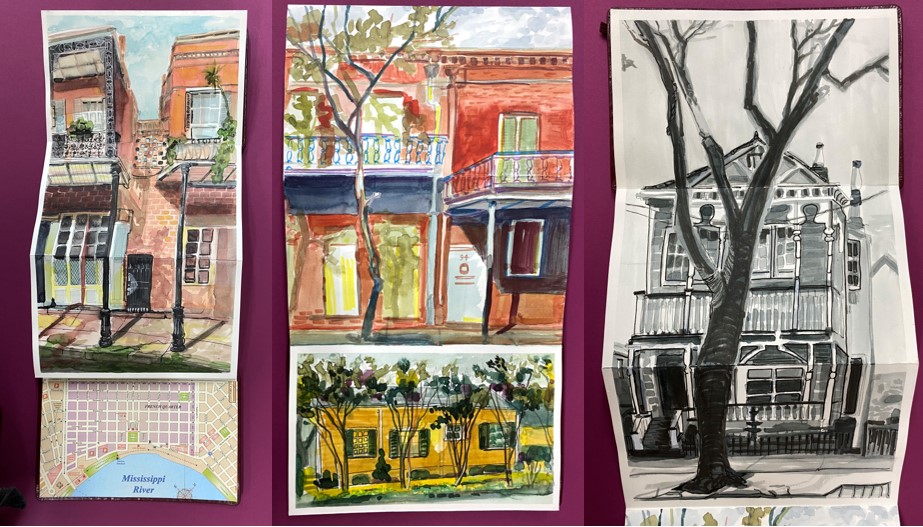 More suggestions
Here are some other suggestions that take advantage of a two-sided design format.
First side is for drawing; the other for painting.
First side is for cool colours; other is for warm colours.
First side is for black and white; other side is for full colour work.
First side is for figurative art; the other is for decorative papers or abstract work.
Whether you use your sketchbook as an art journal to capture color palettes on vacation or an insight into your everyday life, Etchr's dynamic design is sure to inspire. From acrylics to watercolors; pencils, charcoal sketches, and more – it's truly the perfect travel journal for any creative adventure. Visit the Etchr Blog Post for more ideas about using your Etchr Accordion Sketchbook.
Kim Fjordbotten (August 2019) As the owner of The Paint Spot, Kim Fjordbotten is passionate about helping artists use materials and make art. She is available as a speaker and educator for teachers and art associations. The Paint Spot offers exhibitions, workshops, and beautiful art materials to inspire your creativity.
Please help us by purchasing your art supplies from The Paint Spot. We really appreciate your business and it means we can keep making educational posts for free. Thank you.
---